Meet Cali Jeffries. She is a very talented hair and makeup artist at Parlour 3 salon located at 144B Franklin Road in Brentwood, TN. Cali specializes in hair styles, Blowouts, braids, updos and makeup. I was fortunate enough to have Cali work her hair and makeup magic on me yesterday, to help get me ready for a special night. She truly made me feel beautiful.
I hardly ever wear eye shadow anymore and couldn't tell you the last time I even wore eyeliner. I knew if I wanted to feel really pretty I needed some serious beauty help. I honestly don't remember how to properly apply makeup. I feel like I use to be fairly decent at doing my own makeup, but like anything else that you don't practice for awhile, you forget how. I have known I wanted Cali to do my makeup for awhile. I met her while she was doing my best friends hair and her mom's makeup on her wedding day. Both looked perfect. It also happens to be a plus that she just so happens to work at the most stunning and beautiful salon I have ever stepped foot in. If you are getting your hair or makeup done there, you will be sitting in front of Hollywood style lights. It almost makes you feel as if you are a famous actress and you are in your dressing room getting ready. There are tufted couches, plush chairs, marquee lights and chandeliers hanging everywhere. It is the epitome of glamour. I posted some photos below but you need to see this place for yourself, my pictures don't even do it justice. The owner, Melissa, not only has an eye for making people beautiful, she decorated this entire two story salon, herself. I seriously wish she would come decorate my house. Parlour 3 is a full service salon and offer a wide variety of services from facials and waxing to hair cuts and color, makeup, airbrush tanning and extensions.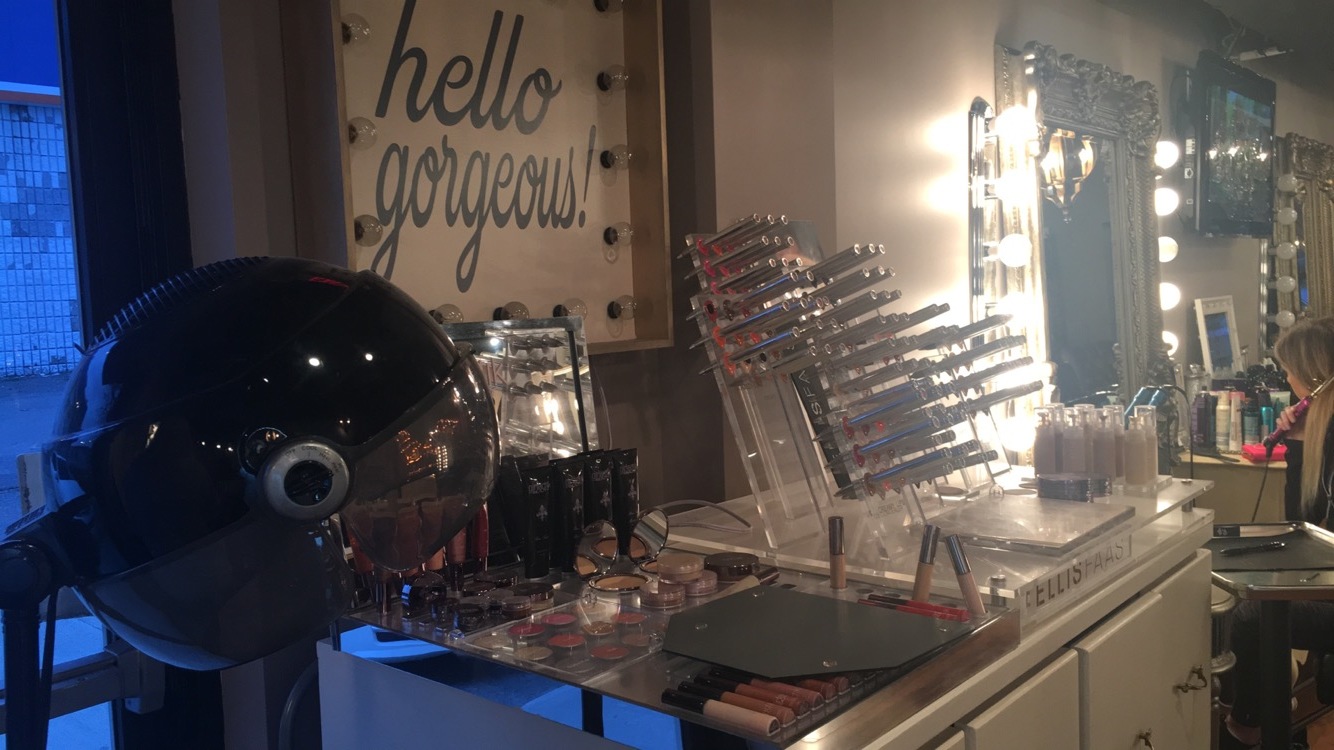 Tips and products from Cali for the look she created on me

Always start with a nice clean face and a good moisturizer/primer that's correct for your skin type (if you're dry you would want a hydration, and if you're oily you'd want a matte)

EYES: I used the self made *Anastasia Beverly Hills* eyeshadow palette / *Anastasia Beverly Hills* gel liner/ *Anastasia Beverly Hills* brow pomade in medium brown / *too faced* mascara and *red cherry lashes* in DW.

FACE: *Frankie Rose* foundation and *Amazing Cosmetics* concealer (those two products are MUST HAVES of mine. Best concealer and foundation combination) set the concealer with *amazing cosmetics* setting pressed powder/ contour with *Anastasia Beverly Hills* powder contour palette/ *Frankie Rose* 3 blush in 1 set and highlight in *Anastasia Beverly Hills* So Hollywood highlighter
LIPS: I chose to use my normal lipstick/ lipliner combination so that I could have it with me for touch ups all night. I use "Nightmoth" liner which is a very dark liner and mixed with a nude shade "Honey Love" both from MAC. It sounds like an odd combination, but when blended together, it makes a nice color and people frequently ask me what color I wear.
HAIR: Cali curled my hair with a wand and teased it up at the crown. I wanted to incorporate braids of some kind into it so she did two small braids back around the sides and pinned them in the back almost if my hair was pinned up. (photo in slideshow below)
This is the look Cali created on me and I absolutely loved it. I have naturally really dark circles under my eyes and she was able to cover those up, which was my main concern. Secondly I have green eyes and I wanted them to pop. Any coppery or pink to purple shades look great on green eyes bringing out the color. I showed her a picture of the eye I was going for and she nailed it. I always love trying new makeup products and will be purchasing several of the products she used on me.