I am extremely honored to say that I am a candidate for The Leukemia & Lymphoma Society's (LLS) Man & Woman of the Year campaign. I really need your support in my efforts to help LLS in its mission to ensure access to cures and treatments for blood cancers.
I am competing with several other Man & Woman of the Year candidates in Nashville, and together we will each put our best fundraising foot forward in honor of two courageous children, Ramble and Hilda, our Boy & Girl of the Year.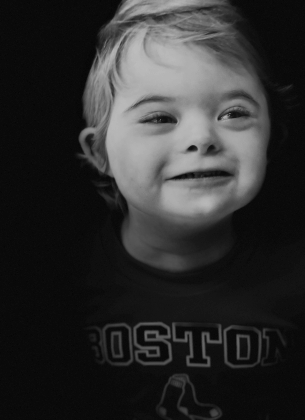 While childhood leukemia has the highest cure rate of any blood cancer, it is also still the number-one disease killer among children under the age of 20. As I am now a mother, nothing is more precious to me than my son, and the thought of this happening in our lives scares me like crazy. This needs to change, and I know that as we come together and partner with LLS we will find a cure, not someday, but today!
Here is how you can be part of the cure…
My campaign to be the Woman of the Year is all about dollars raised and I am asking you today to join me in this ambitious campaign. I have until Friday May 4th to reach my goal of raising $50,000. This goal may sound like a whole lot of money, but I believe that anything is possible, and together we could make a huge impact in helping to find the cures that we need. If my team reaches this goal I will have the ability to name a research portfolio in my dear friend from high school, Phillip Robertson's name, who passed away of Leukemia a few years ago.
Phillip and I were in the same kindergarten class and went to school again together in high school. He was always the life of the party, the person you could always count on to make you laugh. He was the best person really. There aren't enough good things I can say. When I found out that Phillip passed away of cancer I was in complete shock. The first reason I was in complete shock was because I, along with most people other than his very best friends, wife, family and doctors, had no idea because Phillip never wanted anyone to feel sorry for him or treat him differently. Secondly, he was SO young. How could this happen to such a young, healthy person? Cancer definitely doesn't discriminate.
Your donation will prevent someone from losing a child, sibling, parent or loved one, and allow LLS to continue funding lifesaving research. Learn more about LLS at LLS.org and its mission.
Ways you can help!!
A donation

made through my link or by check. Tax deductible contribution. LINK: HERE All donations for the campaign need to be made through this link or a check/cash picked up by me with "Amber Ford" in the memo line. Charitable contribution receipt will be provided on contact. You can also send money to my Venmo account @ambi_bambi and I will put it into the fundraiser site for you and send you the confirmation. Just put "LLS DONATION".

Purchase tickets or a table and attend one of our amazing events

. HERE
We also have our Grand Finale Gala that will be a very fun and fancy event, with dinner, drinks and an AMAZING silent auction!! It will be held May 4, 2018 at Marathon Music Works.
Buy a Fundraiser shirt! $15 of every shirt sale has been donated to my team's campaign , helping me to donate over $1500 in the first week of selling them! Click HERE to order.
Sponsor an event

through a program ad advertisement for the business in an event program, to be seen by all attendees. You can also become a major sponsor if you are looking for those opportunities. Ads for the events can be seen at this LINK. Click the "BECOME A SPONSOR" button and select "Program Book Ads" .
Gift cards or other unique auction items

for the fundraising giveaways I'm doing on social media. Looking for silent auction items for the two big events. Let me know if this interests you and we can coordinate on a way to make this fun. I am THRILLED at all of the auction items I have so generously been given so far!! I will be updating this page acknowledging all of the sponsors so far!!
Point of Sale Donations for your customers

– we can provide you with a branded donation box or barcoded "Blood Drop" branded papers for customers to purchase and write their name on. This is a great way to raise money and make your customers aware of your philanthropic endeavors.
I want to thank you in advance for your generous support of myself and Team "Native in Nashville" and for being a hero!
XO,
Amber